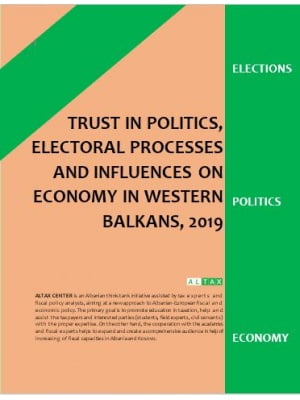 Trust in politics, electoral processes and influences on economy in Western Balkans, 2019
The majority of democratic governments consider participating in national elections a right of citizenship, and also a citizen's civic responsibility. Historical legacies play a key role in the process of state-building and democratization. The WB6 countries have never had this historic chance to inherit a collective memory of a strong, well-governed democratic government, elected by voters and in the general interest of voters. 
Description
In this regional context on the electoral process and the relations between political parties, there remains a continuing concern of regional CSOs' cooperation in the WB6 countries, which may require a strategic future move, which could alleviate the limits of the critical mass of voters. On the other hand, democratic governance in multilateral societies requires a willingness to live together and reach out to its citizens through consensual decisions.
The idea of electoral democracies process derives from the understanding that elections are a necessary but not a sufficient condition for modern democracy, because elections alone are not enough.
The trust in governments in the WB6 countries is falling.  The perception and the reality are in unison that elected people are acting less often in the interests of the voters they elected. People are less trusting of expertise delivered by politicians and analysts related to them. Year after year, trust of voters has been eroded by the perception that politicians don't always use public funds in the public interest. Public cynicism about politicians and their motives is fed by stories of high officials abusing with entitlements and appointing their former colleagues or related parties with them into generously paid, taxpayer-funded positions.
We will try to express in this analyze our own interest in election fraud, but several factors make it difficult to define a common understanding of what election fraud is, much less how to detect and prevent it. Knowledge of politics and public affairs by large numbers of citizens, coupled with their participation through voting and other modes of citizen voice, are important potential checks on the ability of politicians and bureaucrats to not have so much possible ways to realize the electoral fraud.
The national economic situation has been shown to have had less impact on the share of votes won by each party at the regional level, as the regional economic situation has had much stronger influence on the voter decision. In particular, for example, rising national per capita income and unemployment rates have strong effects on election results at the national level if they would be clarified and translated into the context of profitability of voters at regional level.
In this political and social environment are presented the new political antiestablishment organizations, like the nowadays business model of startups.
This model is seen that would be the new era of political forces instead of the old-fashioned politic parties.
The study is composed by 8 topics, which contain analysis and findings arguing the hypothesis.
---
Keywords: election, politics, economy, fraud, CSO, party, Western Balkans
JEL Classification: A13, H10, D72, D73