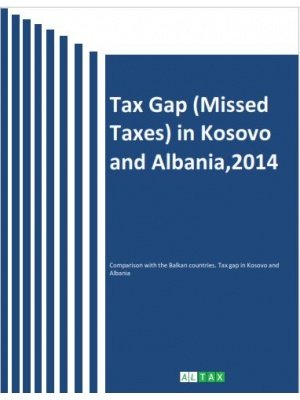 Tax gap in Kosovo and Albania, 2014
Methodology and approaches for evaluation the tax gap in fiscal year 2013.
Comparison with the Balkan countries. Tax gap in Kosovo and Albania.
This study presents three parts connected to the tax gap evaluation. At the beginning of paper are presented concepts and  statistical information for  the  results and methodology. In  the  second  part,  in  the  paper  are presented statistics of the tax gap for Balkan countries. In third part is presented the data and calculation of tax gap in Kosovo and Albania. In this publication for the second time, the paper is more oriented toward the output and productivity of tax administrations in Kosovo and Albania. The evaluation of tax gap may result in a deviation errors to 5 percent, based on the use of many different sources.
Description
A summary of the methodology involves assessing the tax gap for the most important taxes in the actually tax system. The notes and revisions to this result are welcomed by businesses, experts, scholars and academic staff, and interested parties to achieve the most accurate assessment possible based on the typical methodology and data correctly. For comments on the report and for explanation on the methodology used for this occasion, please contact altax@consultant.com.